Marine salvage airbags are the basic flotation tools used in marine salvage. Marine salvage is the process of recovering a ship and its cargo after a shipwreck or other maritime casualty. Salvage may encompass towing, re-floating a vessel, or effecting repairs to a ship. Today, protecting the coastal environment from spillage of oil or other contaminants is a high priority. Nowadays, most salvage is carried out by specialist salvage firms with dedicated crew and equipment.
Raising Submerged Vessels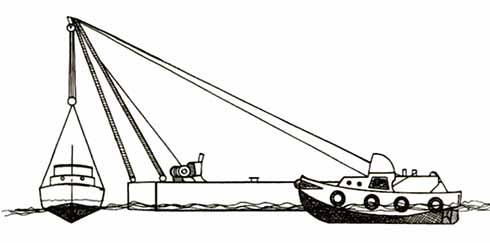 To raise a sunken vessel the salvor must overcome its negative buoyancy. This is accomplished by using one of the five basic methods listed below
Pumping (dewatering)
Raising with flotation
Raising with internal air
Towing the vessel to the surface
Lifting the vessel
Each method has its advantages and disadvantages, and at times it is practical to use more than one in the given situation.
In this article, we glad to introduce top 5 common marine salvage airbags that used to raise the submerged vessels as flotation bags.
Marine salvage airbags are one kind of professional floating buoyancy units for the vessel salvages and rescue. The main application is in shipwreck salvage, floating bridge and dock construction, rescue and removal of wrecked ships and beached vessels. Customers also can use it as pontoons for supporting docks and other floating structures. These flotation bags are also excellent for underwater construction projects.
1. Totally Enclosed Marine Salvage Airbags
Totally enclosed lifting bags are cylindrical shape design. It is known as enclosed air lift bags, inflatable buoyancy units, or salvage pontoon. Enclosed lifting bags are designed to support loads on or near the surface and so are not "underwater air lift bags".
This air lifting bags can be used at submerged vessels both sides after connecting by the passed under slings. After filling air using the compressor, its buoyancy can raise the submerged vessel up to surface.
1.1 Relative merits of enclosed marine salvage airbags
Normally, the manufacturer makes totally enclosed lift bags using PVC coating fabric. This marine salvage airbags are very small in size when deflated, and are lightweight. Thus, can transport and deploy it easily. When the boat is near the surface. The salvors can sling the airbags under the boat with one end on each side to raise the boat high enough out of the water to pump it out. In shallow water, the users can sling two lift bags together like pontoons, one on each side of the boat.
Enclosed airlift bag have enough auto air pressure release valves. It will open when the inner pressure reaches the rated value. Besides, it has more advantages.
Lightweight easy to operate
Save storage and transportation cost
Can be reinforced meet the heavy-duty request
Easy to install
Pipeline buoyancy supports
Bigger buoyancy compare with rubber airbags
Without rubber airbags cone ends
Comparing with the marine rubber airbags and steel pontoon, its outstanding disadvantages is easy to damage. Because the material is very thin. So sometimes, the maker reinforces it with the extra cover or spray the PU skin.
1.2 Application of totally enclosed lifting bags
The salvors can use totally enclosed lifting bags for marine salvage and re-floatation operation. Furthermore, salvor also can make it as buoyancy support pontoons for bridges, floating platforms, dock gates, sunken objects or military equipment.
Totally enclosed air lift bags offer an effectual floatation method. To reducing the draught of the vessel and lift bag salvage underwater structures. Likewise, these marine airbags also are ideal buoyancy modules for cable or pipeline laying and boat lift air bags.